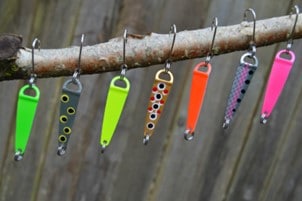 How to use
The God's Tooth provides unique flexibility in adjusting to various water conditions.  The hook can be detached from and attached to either end of the God's Tooth.  The angler can make this adjustment to determine the appropriate action and presentation desired based on the water conditions and one's own preference.
For Faster Action: Attach the Gamakatsu hook to the wide end of the lure.
For Slower Action:  Attach the Gamakatsu hook to the narrow end of the lure.
Top Ten Tactics for Kokanee
Light rods 2-8 lb. or 4-10lb.
Set Gear at least 50′ behind your boat.
Dick Nite Dodgers or Sling Blades are a must.
9-15″ leaders for Wedding Rings & God's Tooth lures and 20-24" for Dick Nites.
Try a double hook set up to increase hooking/landing ratio.
Bait each hook w/ white shoe peg corn, Berkley Gulp or live maggot.
Smear dodgers with scent: Kokanee gel, lotion, or DNA, also Anise oil, and shrimp oil.
Troll 1 mile per hour, kicking it in and out of gear.
Don't set the hook, simply lift the rod from the downrigger and begin reeling.
Use a long-handled landing net.